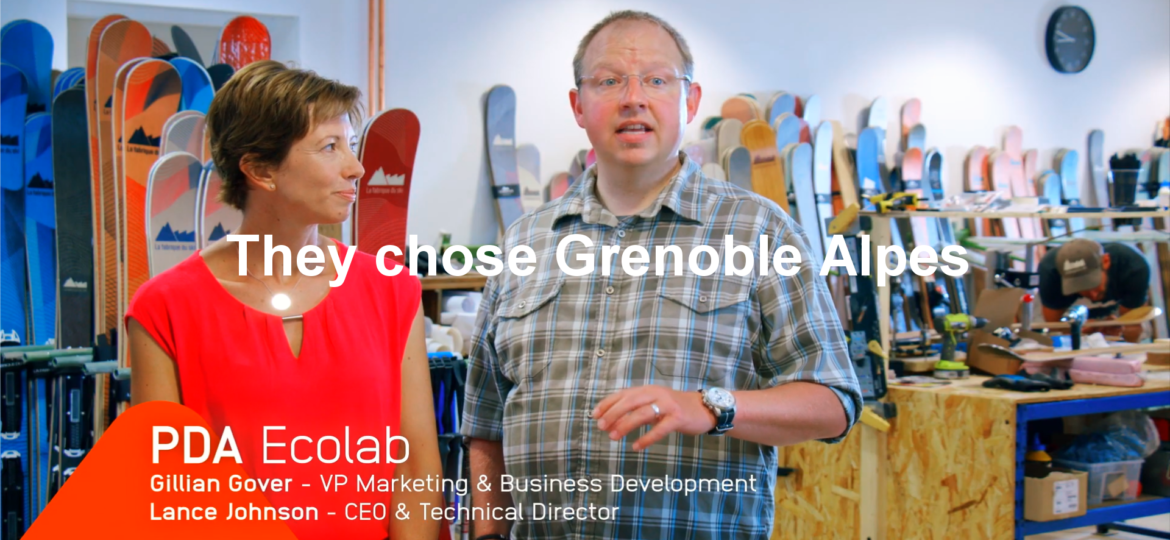 The truth about setting up a business in Grenoble Alpes
Our team has met with a good number of businesses who come to Grenoble Alpes asking: " What is it about your city and surrounding region that would make us consider setting up a part of our business here? "
In response, we fire up our fancy PowerPoint presentations and whip out our promotional brochures. We begin to explain why our city would be an ideal place for them economically – our bustling business & research sectors, our proximity to European hubs, our qualified workforce, among other reasons…
This "corporate talk" is great for a first meeting, but when we really get down to it, we find that, often, economic arguments are not the underlying deal-makers or breakers.
Behind a company's decision to set up a European HQ or an R&D center, there are people – the company's founders, their current and/or future employees – who will have to live with the decision of their localization. And those people have lives, careers, personal interests and families. So, the question quickly shifts to: are the employees of our company going to thrive in their personal and professional lives in Grenoble Alpes?
To answer this question, I could draw on my own experience as a foreigner who set up her life in Grenoble Alpes. But you might not trust my word. So we asked a few newly-set-up entrepreneurs what they thought about moving their business to Grenoble, and we were able to summarize their thoughts with 4 main arguments:
#1 – Grenoble Alpes' quality of life
This can be looked at in a couple of ways, but first let's talk about outdoor activities: the three Alpine mountain ranges surrounding Grenoble, with their beautiful lakes and vistas, are within minutes of the city's downtown by car or bus. Rock climbing, biking (I'm talking Tour de France style!), hiking, paragliding, trail running, all types of skiing, are just the tip of the iceberg in terms of opportunities for mountain sports… If you're into reading books in picturesque public parks or taking a leisurely bike ride through a small French city, there's that, too. Basically, everyone can find her, his or their niche.
In comparison with other mountain cities, Grenoble enjoys a large international & student population as well as geographic proximity to Italy, Geneva and Lyon. This means that though Grenoble Alpes is "outdoorsy" it also enjoys a dynamic cultural environment, with a plethora of museums, cafés and bars.
Bottom line: Grenoble Alpes is small enough that you can cross the city by foot in an hour, but big enough to shop at the market on Saturday without bumping into your boss.
#2 – The city's eco-friendly environment is in tune with today's world
Grenoble Alpes' eco-friendly atmosphere is twofold:
Professionally, it means that businesses are looking for responsible ways of doing business and improving their products. Companies who are ecologically innovative find a supportive community for their work. This has led to synergies between companies helping each other to develop "greener" ways to produce their products and the development of new technologies that will help in the transition towards sustainable energies.
On a day to day basis, Grenoble's "greenness" means that living in the metropolitan area allows inhabitants to participate in ecological initiatives, like collective urban gardens and orchards. In addition, in response to the rising risks associated with climate change, Grenoble Alpes has committed to a long-term, forward-thinking approach to climate mitigation, promising to keep urban living comfortable for years to come.
#3 – Internationality is part of Grenoble Alpes' DNA
With the second-largest English-speaking population in France (after Paris), Grenoble is a friendly home for foreigners thanks to a dynamic university system that draws students from around the globe, from undergrad levels all the way up to doctoral candidates and post-docs.
This point is important to note, because being a foreigner in some parts of France is not always so easy (cue the Parisian waiter who INSISTS on talking you in Eeengleesh, even though you are trying to flex your masterful AP-level francais, s'il vous plait!). But in Grenoble Alpes, feeling at home as a foreigner is not as difficult, because there are so many others foreigners in the community, and influences from all over the world
#4 – Helpful innovation community
For professional development, one of the most convincing aspects of setting up in Grenoble is the support for innovative projects.
As opposed to many other countries, where risks and rewards are wholly owned by companies, France has taken initiatives to set up institutions that encourage entrepreneurial risk-taking and collaborate with entrepreneurs to make their path a bit easier, both financially and administratively. In Grenoble, this can be felt through programs like La French Tech in the Alpes, our network of incubators and accelerators, investment partners, local government, and more…
Oh, and I forgot: with the help of us, Invest in Grenoble Alpes! We are here to help any project get off the ground in Grenoble Alpes and its surrounding department. We provide FREE access to our extensive consulting network, our knowledge of the innovation community, real estate agents, investment opportunities, help with hiring questions, international relocation, and much, much more. Good reasons to be in touch as soon as possible!! We can't wait to help you get set up in Grenoble Alpes.
Our experts are available for all of your
needs – providing support and advice, for free,
throughout the process of getting your business set up.