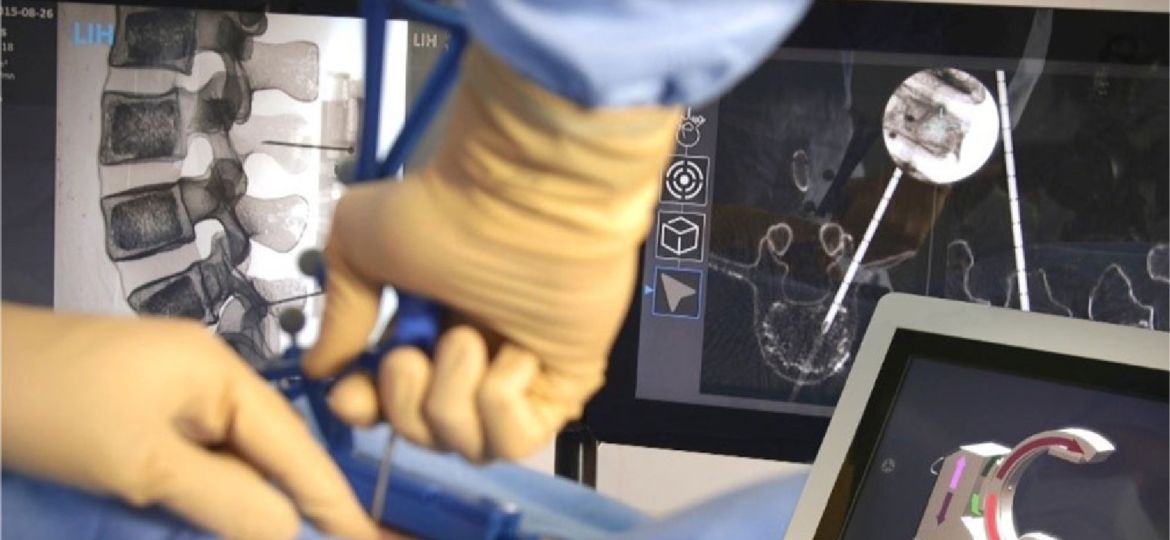 Grenoble-based eCential Robotics raises € 100m to become a leader in surgical robotics
Grenoble Alpes is proud to call itself home to eCential Robotics, formerly Surgivisio. The company announced its rebranding on January 19th, along with the news that it had secured close to 100 million euros of funding in equity, quasi-equity and debt financing. This is the largest round of fundraising in history for a Grenoble-based medtech company.
eCential Robotics is a rising star among surgical robotics companies. They have targeted the sophisticated world of bone surgeries, providing a navigation system that allows surgeons to be more precise, less invasive and more efficient. Their solution is currently used in spinal surgeries, but could be adapted to all bone surgeries. Their navigation system has received international praise.
The startup was created in 2009 by Stéphane Lavallée, who saw an opportunity for making surgery workflows safer and more efficient through the use of a digital navigation system. The system incorporates 2D & 3D imaging as well as robotics.In 2017, eCential Robotics received a CE marking, thus making it possible to commercialize its products. With 8 navigation systems sold throughout Western Europe, eCential's systems have now participated in over 1000 surgeries.
"Our development is built on partnerships between engineers, surgeons and various implant companies. The clinical feedback from our reference centers is very strong: surgeons and staff have gained in efficiency, and a large majority of opinion leaders now share our vision", said Laurence Chabanas, Managing Director of eCential Robotics.
The €100 million financing, the result of the support and trust of the company's investors (Bpifrance, Sigma Gestion, Med-Innov and the company's founders) and banks BNPParibas, Caisse d'Epargne Rhône Alpes and Crédit Agricole, will allow the company to expand its sales and marketing in various markets, while in parallel increasing its production capabilities and investing heavily in the innovative development of new product lines.
eCential Robotics designs and manufactures all its products in France, in the Grenoble Alpes Metropole, in its 12,000 sq ft office space and 12,000sq ft factory (versus 1,600 sq ft in 2015). The company, which doubled its workforce between 2019 and 2020, now has close to one hundred employees and plans to recruit fifty people by the end of 2021 (including design engineers, project managers, application engineers, project quality engineers and industrial buyers).